Why No One Should Underestimate San Diego.
When I first arrived in San Diego, shrouded in a thick cloud of Bay Area smug,
I figured I'd give it a year. I thought I had the city pegged: an insecure beach town trying desperately to escape the long shadow of Los Angeles, an overgrown suburb as shallow and flat as the MGD in a beer pong cup. And I, well, I was an intellectual (or at least a wannabe). I needed culture! Museums! People who wanted to think and make art and spend hours talking about books. You know what people talked about in San Diego?
Burritos
.
I knew San Diego was capable of producing creative people — Tom Waits and Eddie Vedder and Frank Zappa all started their first bands here — but I was pretty sure the real artists just got rounded up every few years and put on a Greyhound bound for New York or LA. San Diego couldn't get them to stick around, and it wouldn't keep me either. A year, max.
That year turned to two turned to five to a decade and counting. The San Diego I thought I knew still lives up to its stereotypes every damn day. But when I broadened my definition of the place to include the stuff beyond the beach — beyond, even, the scar left by the miles-long international border fence that cut the Californias apart 169 years ago — I found a region far more cosmopolitan and culturally attuned than it gets credit for.
SEE A REMBRANDT IN THE MORNING, TAN YOUR NAKED BUTT IN THE AFTERNOON, ATTEND A LUCHA LIBRE MATCH AT NIGHT.
Yes, there is San Diego that has pretty beaches and a nice zoo and an orca in a swimming pool. There's the San Diego that shows off its abs on Mission Beach, and the one that golfs at country clubs and takes cotillions seriously. There's the San Diego that drives a Maserati to its Del Mar beach house and the one that brews double IPAs while wearing suspenders. And yet. There is also the San Diego that resettles record numbers of refugees and has the second-largest Chaldean population in the country. There's the San Diego that rides a Huffy to work in City Heights, and the one that wakes up at 4am in Tijuana to wait at the border crossing to get to school every morning.
These many San Diegos don't overlap as often as they should, riven as they are by freeways and fences that keep everyone contained. The more you can transgress these artificial borders, the better you will understand this place.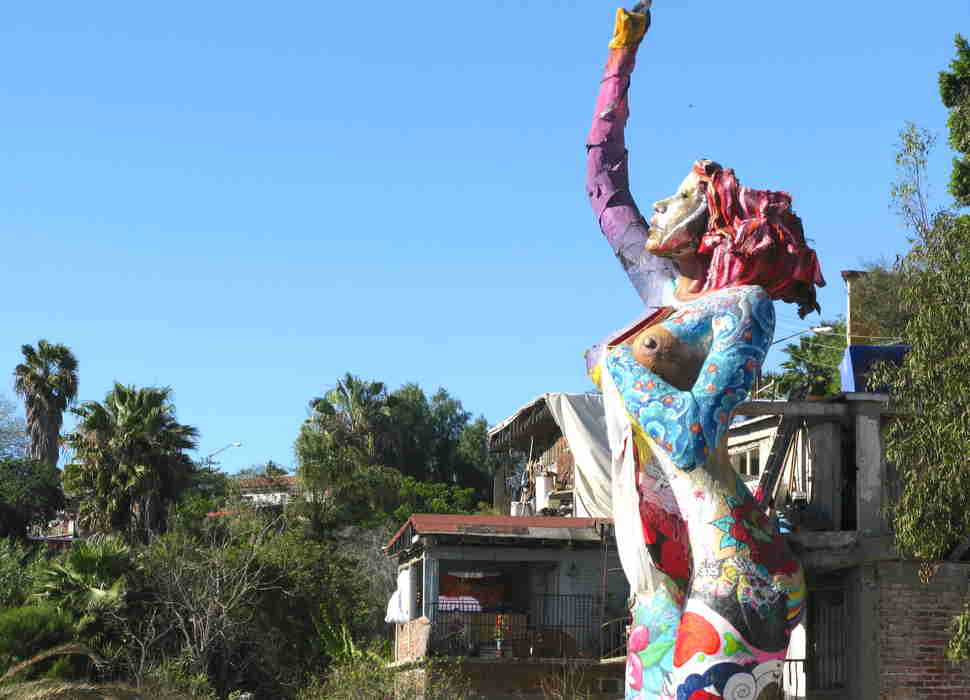 The best thing that ever happened to me in San Diego didn't even happen in San Diego. It happened 20 minutes away, in a garbage-strewn depression in Tijuana, when my friend Derrik Chinn and I knocked on Armando Muñoz García's door.
We'd heard rumors about the eccentric architect who'd built an 18-ton concrete sculpture in his backyard of a naked lady that locals called La Mona (The Doll). But rumors were one thing; seeing her up close, all hair and hips and tits, standing six stories tall in a shantytown near the airport — that was something else. Muñoz offered to give us a tour of La Mona, who turned out to have a three-story apartment built into her curves.
"I sleep in her bosom," he explained with a sly grin. "I have my office in her head, and the bathroom… well, that's downstairs."
Like a Mexican variation on Lady Liberty, La Mona was Muñoz's love letter to his city. As I approached the trapezoidal window that opened up from her heart, the view stretched out over her perky cement nipples toward the distant horizon, swelling with the chaotic carnival of colors and sounds and life that is Tijuana.
There was a touch of magical realism in witnessing such mad, audacious creativity in such an unexpected place. Life on the border is full of such surprises.
Click On "NEXT" to Read On...
---
Like it? Share with your friends!